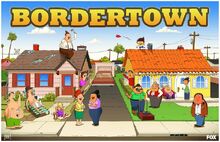 Bordertown is an American adult animated sitcom created by Family Guy writer Mark Hentemann and executive-produced by Family Guy creator Seth MacFarlane. The series aired on Fox. Bordertown follows two families living in a Southwest desert town on the United States–Mexico border.
Taking place in the fictional city of Mexifornia, Bordertown follows the lives of two families that live next door to each other: the Gonzalez and the Buckwald, being the two main characters Bud Buckwald and Ernesto Gonzalez.
Season
Episodes
Originally aired
First aired
Last aired
1
13
January 2016
TBA
Cancellation
Edit
On May 12th, 2016, just 4 months after the season premiere, Bordertown was cancelled due to poor ratings and poor reviews.